Saint Nicolao's Church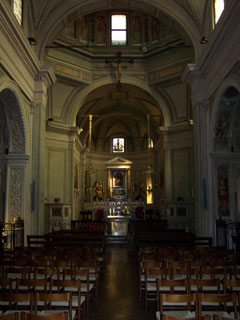 What is now known as the Sanctuary of Our Lady of Miracles of Corbetta, we know it was in ancient times only a church dedicated to St. Nicholas since the middle of the thirteenth century.
The original chapel was completely rebuilt in the mid-fifteenth century in Renaissance style, coming complete with an ambitious dome with an octagonal drum that remains to our day. The style of the facade was still inspired by Romanesque facade and was on this same facade that Gregorio Zavattari make the miraculous fresco "Madonna and Child" in 1475, a work of considerable importance, reflecting stylistic patterns of madonnas painted by Tuscan painters of the period, like in Simone Martini's work.
The church is known that was located on the outskirts of the country and more specifically it was just outside the fortified walls of the town of Corbetta, in an area surrounded by woods, and had a dirt courtyard.
In 1556, just one year after the miracle, was also decided to expand the existing structure to accommodate more functions properly and the growing number of faithful that was occurring in Corbetta. Other expansions were followed between the eighteenth and nineteenth century at the growing importance of the place of worship that was enriched up to six side chapels with works by artists such as Luigi Pellegrini Scaramuccia detto il Perugino, Giovanni Stefano Danedi detto il Montalto, Melchiorre Gherardini detto il Ceranino.